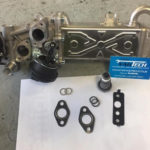 As an independent VW specialist in Widnes offering quality services, you will enjoy excellent services at very competitive prices. To make sure that your vehicle runs as smoothly as possible, you will find that you need the honest help and unbiased advice of a reliable mechanic or technician. Your vehicle will need proper checks and services. Therefore, if you are looking for a garage for all your needs, ranging from annual MOTs to required servicing, including tyre checks and replacements, you will find our technicians at Vag Tech to be fully competent.
We are a family-run business with almost 20 years in the trade. In Widnes, our VW specialist will provide you with the service that you are looking for, including diagnostics and remapping. All vehicles come out from the manufacturers with similar factory settings, however, if you are interested in making the most of your vehicle, you can have these settings tweaked to increase performance, optimise driver experience as well as increase fuel efficiency. Many vehicle owners are now choosing to have their engines remapped, and if you are interested, please let us know. We have a wealth of experience working on VW vehicles, of different makes and models, and we can offer our clients top-notch services at a fraction of the main dealers' price. In addition to that, if your vehicle needs repair work or part replacement, we will proceed only after getting your approval, and we will use quality products at all times, unless you request otherwise. We are fully equipped to carry out different types of work on your vehicle and your vehicle history will be updated where available, and if your vehicle is still under warranty, rest assured that we will stick to the manufacturer's guideline.
Talk to our VW specialist in Widnes if you are looking for a quote regarding our services. Costs will mostly depend on the age and mileage of your vehicle, and we will quote you exactly what you will pay. For more details, contact Vag Tech today. We will be happy to hear from you!