Take

Care of Your Mini in Runcorn with Help from the Specialists at Vag Tech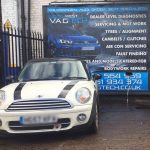 You are undoubtedly proud of your Mini in Runcorn and aim to keep it in excellent condition. Keeping it serviced and maintained is part of responsible car ownership. As with all machines, a Mini needs regular care and attention to ensure it remains in optimum condition. If you are looking for a garage that will provide the services your Mini will need without costing a fortune, we can assist. As an independent, family run garage, we can cater to all makes and models of cars. Regardless of whether you need a simple service to a full in-depth diagnostic testing, we can assist.
We offer a dealer level of knowledge and experience. In Runcorn, your Mini will be attended to by skilled technicians with many years of experience. We offer a range of different services to ensure your Mini is running at its best. As we are also an authorised MOT centre, we can provide your Mini's MOT test when it is due. We take great pride in our dedication to quality, affordable pricing and our commitment to 100% customer satisfaction. Problems such as cam belt, clutch, exhaust, suspension, electrical systems including the aircon, can be attended to by our skilled team. Your Mini's model, production date and engine option are important factors used to determine its servicing and maintenance schedules. Typically, servicing is recommended every 10,000 miles. Oil change schedules also usually vary according to individual aspects. The newer models have on-board diagnostics to monitor servicing schedules and checks for brakes, oil, and filters. They also have features such as built-in brake sensors in the wheels to show when the brakes need attention.
Our garage that caters to your Mini in Runcorn is open every day except Sunday for your convenience. If you are looking for a reputable garage for your Mini's care, contact Vag Tech. We also offer free quotes for repair work and servicing. Should your Mini need cam belt repair or replacing, our specialist is available. We are rarely beaten on price for our excellent services.  With us you can expect an excellent level of service at excellent prices.