SEAT

Specialist in Widnes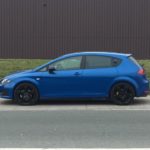 We are a SEAT specialist in Widnes, as well as an independent garage. We service and repair various makes of cars that come under the Volkswagen group. This includes Audi, Skoda, Volkswagen and Seat. As an independent garage we can keep our prices far lower than the main dealership and can offer you a more personal service. We'll let you know exactly how much a service on your car will cost and will contact you if your vehicle needs any extra repairs or parts. Only genuine parts when servicing or repairing your vehicle are used, and are thus able to keep your manufacturer's warranty valid. This applies to SEAT and Skoda too. We have full RAC approved repairs and facilities and are considered to be one of the leading garages in the area.
For motorists in Widnes, a SEAT specialist service is expertly completed by our skilled team. We have many years of experience in repairing and servicing Seat vehicles and have the specialist equipment needed to carry out a thorough and comprehensive job. Our diagnostic machine can connect to the manufacturer to access any technical data we may need. This includes wiring diagrams and parts lists. It also allows our expert technicians to find faults quickly which saves you money. The on board computer in your car stores any problems it may have and our diagnostic machine can see exactly which part needs changing. The parts are frequently in stock but if not, can be obtained quickly.
We are an independently run garage that is considered a SEAT specialist in Widness. Contact Vag Tech today to book an appointment for an installation of a Ghost immobiliser or a service, repair or maintenance for your vehicle. We have over 20 years of experience in all makes and models of VW, Audi, Seat and Skoda vehicles. We can offer an MOT test for all vehicles over 3 years of age as well as routine maintenance checks on your cambelt and clutch. Our highly qualified technicians will also offer a free clutch assessment which is subject to wear and tear as part of its normal operation.